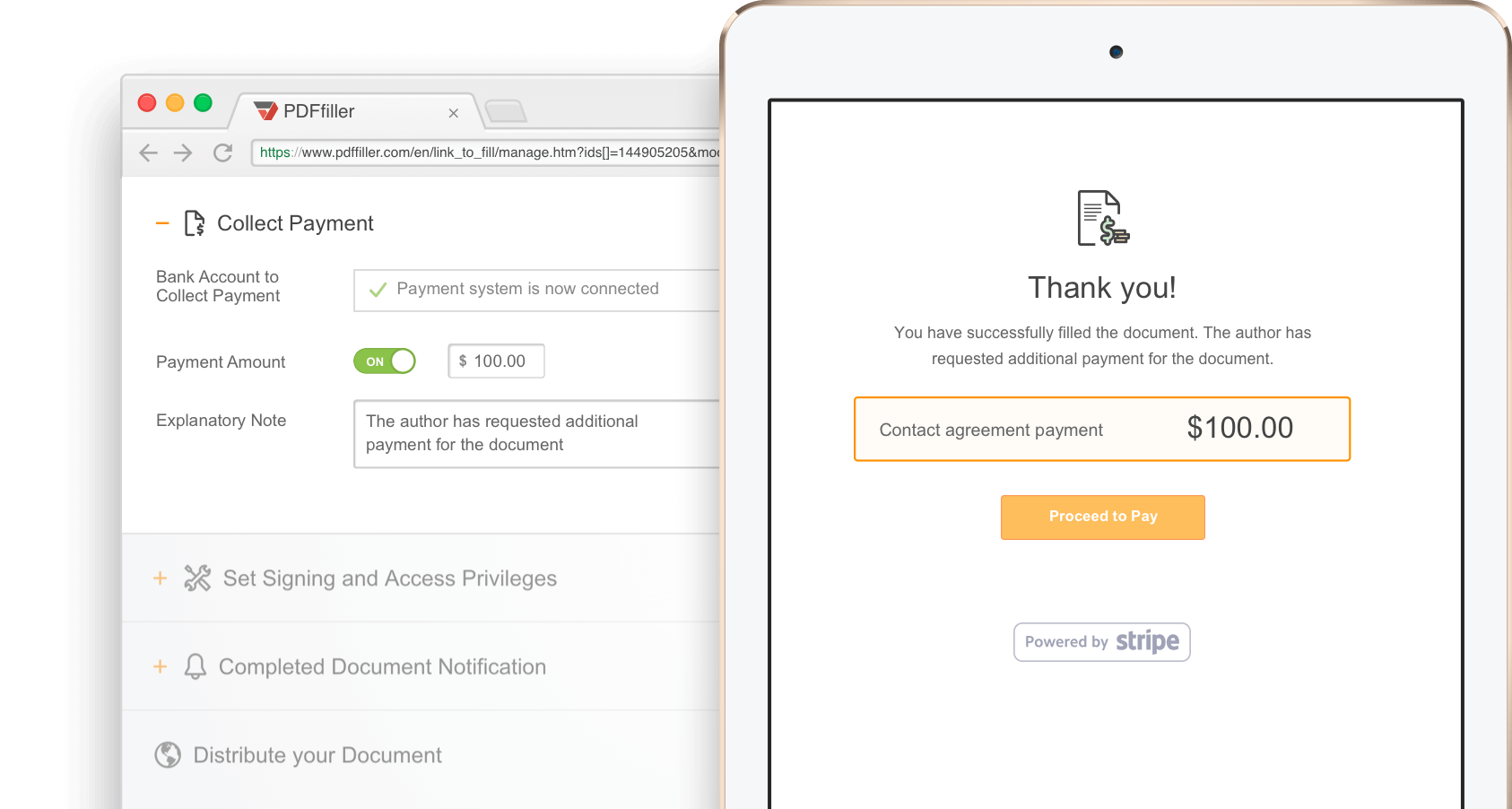 Receive Your Payment Quickly & Securely
Accept payments for services alongside submitted documents with Collect Payment by pdfFiller and Stripe
Try now
Collect Payment allows businesses to require electronic payments from customers when sending a fillable form to be signed or completed. Your customers and business partners can fill in contracts, tax forms and applications online from any mobile device and instantly pay for services
Make it Easy to Pay
Host a fillable form on your website, share it via a link or QR code so that everyone can fill in your fillable form and instantly pay for services from any internet connected device.
Close Deals Faster
Don't wait weeks for a money transfer. Payment is delivered within three business days after a client or business partner submits a fillable form.
Clarify Payment Details
Easily customize the payment section by setting the payment amount and adding a note so that your recipient knows exactly what they're being charged for.
Connect your pdfFiller account to Stripe
Secure
Stripe is certified as a PCI Level 1 Service Provider. This is the most stringent level of certification available in the payments industry.
Intuitive
Integrate your pdfFiller account with Stripe in a few easy steps and begin requesting payments with fillable PDF forms.
Universal
With Stripe you're able to accept a variety of payment methods including major credit and debit cards from customers all over the world.
FAQs for Collect Payment
How can I add a Collect Payment section to my fillable form?
You can add a payment section to your fillable form in a few clicks.
When you've finished editing, click the orange arrow next to the Done button and select LinkToFill in the dropdown list. Alternatively, select a document in MYBOX and click LinkToFill in the right pane.
Click Collect Payment.
Connect your Stripe account or create a new one.
Set the payment amount and add a short message explaining why you're requesting payment.
How can a recipient pay for my services?
Once a recipient has finished filling out the form, they will be prompted for their credit card information.
How do I know that a recipient paid for my services?
As soon as the form has been submitted, you'll be notified via email.
How long should I wait for a payment?
Within two to three business days the payment will appear in your Stripe account.